Berger RustPro Anti-Rust Enamel
A great semi-industrial product to use on interior and exterior metal and wood. Its anti-corrosive properties make it ideal for use to withstand harsh Caribbean weather.
Berger RustPro is a premium quality, light industrial grade anti-rust enamel made especially for a tropical environment. Berger RustPro is a high-performance coating on both interior and exterior metal and can also be used on exterior wood. Dries to a rust resistant, scrubbable, stain resistant film. Special formula modifications result in a tile-like coating which can take years of use and abuse without chipping or flaking.
Superior anti-rust properties
For interior and exterior metal and wood
Resists chipping, cracking and peeling
Surface preparation:
New metal and repainted surfaces must be clean and free from dirt and grease
Remove rust and scale by wire brushing
Apply one coat of Berger RustPro Primer or Berger Zinc Chromate Yellow
Clean the surface of aluminium/galvanized metal with Berger No. 2 Reducer to remove any grease
Treat the surface with Berger Self-Etch Primer
For new wood surface must be clean, dry and free from dirt
Seal knots with Berger Knotting varnish
Apply one coat of Berger Wood Primer before top-coating
For previously painted wood sand where necessary
Application Procedure:
Do not apply when humidity exceeds 95% and condensation is expected
Use 5% to 10% Berger no.2 reducer to thin if necessary
COLOUR RANGE: Product comes in seven standard colours including white and black
Tips: Clean brushes with Berger No. 2 Reducer.
Tools you will need
Spray
Roller
Paint Brush
Available Packs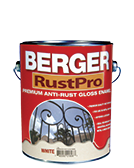 1 Gallon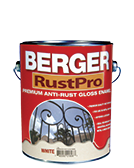 5 Gallons
1 Coat
11.00 m2/Ltr**
Coverage
On well-prepared surfaces, as per the painting system recommended. Please refer to the Product Data Sheet for surface preparation and method of application.
** Actual coverage may vary from the quoted coverage due to factors such as method and condition of application, surface roughness, and porosity.
Available Shades
Complementary Colours
9188 Seagull

7532 Valley Mist

8108 Button Rose

8132 Pale Blush

9484 Smooth Flow

945 Summer Blush-N

9556 Divine Pink

8700 Divinity

8708 White Flame

9187 Instant Chill

7531 Blue Light

8107 Tinge Of Mauve

8131 First Dawn

9483 Clear Sky Night

8659 Sparrow Feather

9555 Graceful

5182 Lucid Dream

8707 Vibrant Blush

9186 Feather Blue

7530 Mint Cocktail

8106 Daisy Bunch

8130 Rose Rhapsody

9482 Silver Glaze

8658 Quarry Stone

9554 Tube Rose

8698 Pink Embrace

8706 Spring Season

9185 Mild Splash

7529 Sea Life

8105 In Vogue

8129 Maiden Pink

9481 Raining Grey

8657 Dancing Deer

9553 Melting Pot

8697 Pink Compact

8705 Rose Plume
Solve Potential Paint Problems
1
How do I get rid of unsightly mildew on my walls?
Mildew is both an interior and an exterior problem found in damp areas receiving little or no sunlight. It appears as black, grey, green, or brown spots on any surface.
What are the possible causes?
Failure to treat existing mildew before painting
Using lower quality paints with little or no biocide
Failing to prime bare wood before painting
Painting over a substrate or coating from which mildew has not been removed
---
What is the solution?
Treat mildew with Berger Sterilizing Solution
Remove mildew by pressure washing the surface
Allow solution to remain on surface for at least 1 hour
Rinse thoroughly with water and allow surface to dry before painting
Wear protective eyewear, protective clothing, and waterproof gloves
To protect against re-growth use premium quality paint
Clean high-moisture areas at 6 month intervals to slow re-growth
---
We recommend you use these painting systems in order of base coat, first coat, and second coat:
2
What are those reddish-brown spots on my wood and walls?
Reddish-brown stains on the paint surface are called nail head rusting and are usually a sign that the surrounding wood may be rotting.
What are the possible causes?
Non-galvanized iron nails exposed to moisture
Nails not properly countersunk
Nail heads not caulked with siliconized caulk before painting
Frequent exposure to damp wood
---
What is the solution?
Completely remove the nail and replace with a new nail
Wire brush each nail head until bare shiny metal
Clean and spot priming with appropriate Berger primer
Caulk nail heads with paintable Berger acrylic caulk
Topcoat with premium Berger acrylic or oil paint
---
We recommend you use these painting systems in order of base coat, first coat, and second coat:
3
Why do I have a patchy paint finish?
Patchiness generally occurs when insufficient paint has been applied or when paint is applied unevenly, resulting in a variation of the film build leading to patches.
What are the possible causes?
Inconsistent distribution of paint on the surface
Incorrect or low quality paint brush or roller
Failure to apply a primer over joint compound
Applying paint over joint compound not fully dried
The top coat is applied over spot-puttied surfaces
Variations in surface gloss can cause paint to appear patchy
---
What is the solution?
Increase the amount of paint on the brush or roller to allow better distribution
Apply the paint in a grid fashion to ensure an even finish
Allow puttied wall to dry evenly before priming
By applying one coat of appropriate premium Berger Primer
Apply two coats of premium Berger acrylic topcoat
Refer to Berger Technical Support for primer options
---
We recommend you use these painting systems in order of base coat, first coat, and second coat:
4
Why didn't the paint hide the surface beneath in two coats as recommended?
Poor hiding occurs when paint fails to obscure or hide the surface to which it is applied.
What are the possible causes?
Using low-quality paint with little hiding power
Spreading paint too thinly or unevenly
Over-thinning paint beyond the recommended amount
Failure to prime the surface before top-coating
Painting a porous or absorbent surface
Using incorrect or poor quality tools
Inadequately mixed paint
---
What is the solution?
Prime first, if moving from a significantly darker to a light colour
When painting in a dark colour, tint primer in a similar tone to the topcoat shade
Use premium quality paint for better hiding and flow
Use quality and correct tools for the job
Follow manufacturer's recommendation for thinning
---
We recommend you use these painting systems in order of base coat, first coat, and second coat:
Get Inspiration

Make Your Plan

Let us design a project plan to suit your needs.

Colour Tools
CONTACT US
Note:-
The shades displayed on this website are indicative only and may vary from the actual colours due to variance in monitor calibration and resolution as well as screen settings.